Following on from my last post I got sent this:
"Add weeds!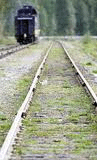 If you've every stepped back and looked at your layout and wondered why it doesn't look quite right – it's usually weeds, or rather, the lack of them.
Look at any real railroad – and what do you see? Weeds every where.
They're easy to make, any twine, string or carpet fibres can be painted and roughed up and easily places in the ballasting.
Try it! You'll be surprised how it brings your railroad to life."
Victor.