Category Archives:
How to

This is just one of the houses you can print out, stick to card, and then fold together. Have a look at the others here.
They are really easy to make – fun too.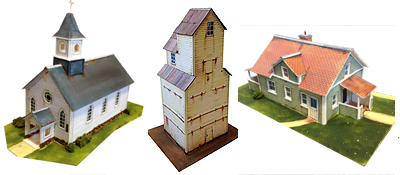 I've been tinkering with this printout scenery which I'm quite pleased with.
You just print the template out, glue the tabs and you're done.
The grain elevator goes with well the silo and storage shed.
"Here's an ideal useing those flag's the flagmen use on the roads.Get old ones or new and cut them in strips.Their the same color and braid as the fence we use in real life here in canada.And can be for Ho.Or paint them with aluminum paint and wam metal fencing.Use silver wielding wire for fence posts."
Kim.